It's not every day that you receive an invitation to a private island, so when I received mine from the lovely people at "Let's Buy an Island," I couldn't say no. I gathered up my camera gear and jumped on a plane for a surprisingly quick trip to Belize in Central America. Upon arrival, I was greeted with a temperate winter climate that makes the native Floridian in me swoon every time I leave the cold North. The coastal Caribbean nation of Belize is home to lush jungles, Mayan ruins, the largest cave system in Central America, and the second largest barrier reef in the world. Over 450 islands can be found off shore and one island in particular, Coffee Caye, was the reason for my 48 hour excursion.
"Let's Buy an Island" was established with the plan of being the very first crowd funded private island and after years of research and development they finally have their site. The founder and my guide for the trip, Marshall Mayer, brought me down to our hotel pier in Belize City just before dusk for our first interview of the shoot. Off into the distance, he pointed to the horizon line, proclaiming there was their island. Through the clear Belize skies, over the bright blue ocean, sure enough, there it was.
Around noon, the following day, we loaded up a local fishing boat and headed to Coffee Caye. The waves were at a moderate chop with the little bit of wind that was coming onto the coastline. We were joined by two of the initial investors of the project. This would be there first time out on their new private island. They could barely contain their excitement as we drew closer to landfall.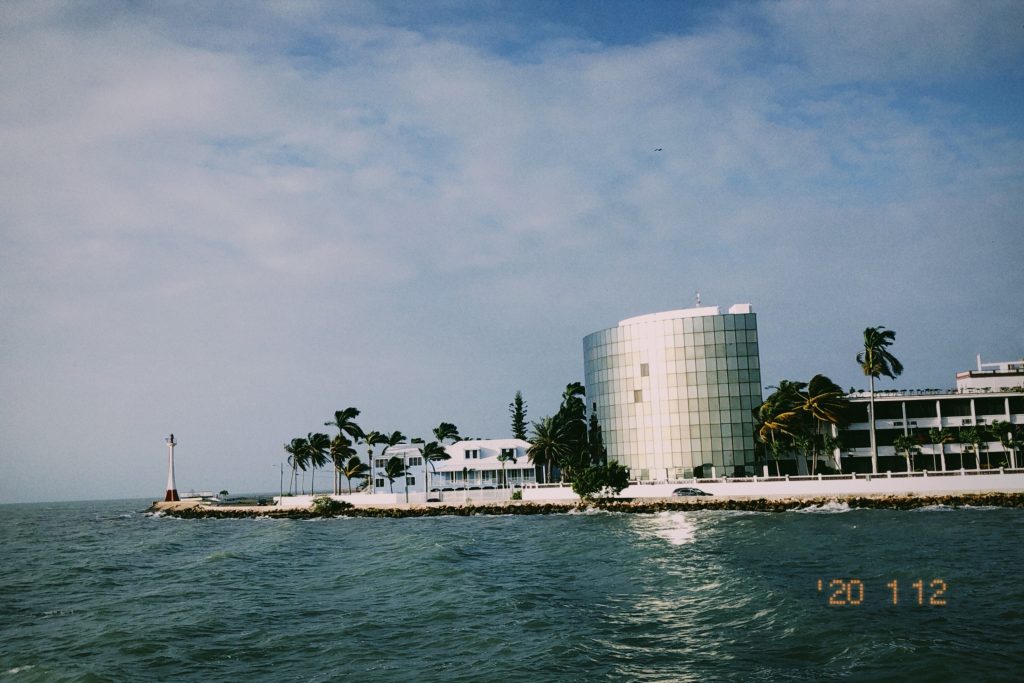 The island itself sits at a little over an acre (there is allowed room on all sides for expansion), with beautiful mangrove hammock and a clear beach pointe topped with a palm tree. After a brief tour, I set up shop for our investor interviews just as the golden hour sun took over the grassy center of the island. The interviews themselves proved to be a bit of a chore, as the giddy investors much rather wanted to be lounging beachside, and in all fairness, I couldn't blame them. You could feel their pride and excitement with being able to announce that we were currently on their island.
After the interviews, we headed back to the mainland for a local seafood dinner at an oceanside restaurant a few minutes from the hotel. I had the fried conch and a few of the local Belikin beers. Then it was lights out for an early morning back on the island for b-roll.
Day two was just as beautiful as day one. As with most Caribbean locations, there is always a chance of rain. Fortunately, when it does rain, the rain only lasts for two to five minutes. I was able to spend a few uninterrupted hours around the mangroves, shoreline, and palm coated interiors capturing the essence of the island. The sad part was the trip had to come to an end. I had an early afternoon flight back to New York and that didn't allow for much time past noon to be on the island. So again, we were headed back to the mainland, this time with some classic rock on a Bluetooth speaker to celebrate a successful trip. I don't think I or the investors took our eyes on the island until we reached land again.
Within 48 hours of 30 degree weather in the city, I reached out to Marshall for an investor packet. It's not every day you receive an invitation to someone's private island, and it's even rarer for someone to offer "Let's Buy an Island," so when I saw my chance, I couldn't say no.