PIONEER MEDIA'S CHINA MANAGER DR. JOHN MCGOVERN EXPLAINS HOW FILMING IN CHINA, ALBEIT CHALLENGING, IS NOT IMPOSSIBLE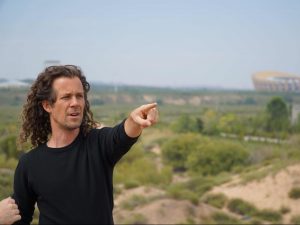 There are three official routes for foreign filmmaker who wish to film in China:
1. Co-Productions, where a foreign film company and its Chinese counterpart both contribute equally to financing.
2. Assisted-Productions, where a foreign film company hires a Chinese company to facilitate permits, permissions and production services.
3. Commissioned-Productions, where a foreign film company outsources an entire film production to a Chinese company.
Options 1-3, though they provide access to the prestige and might of the Chinese film industry, are often only possible for filmmakers with a large budget and take considerable time to clear permissions. So is there a route? There is:
4. Guerilla-Style Filmmaking.
While there may be some limitations and restrictions on the size and scale of a guerrilla shoot, it is possible to safely accomplish shoots for filmmakers with smaller budgets who are willing to utilize a skeleton crew, limited gear package, and a small cast.
***
"The mountains are high and the emperor is far away," said Yang, our Chinese driver, using a classical Chinese saying to demonstrate the fact that we were on our own here and far from the watchful eyes which might interfere with an unpermitted shoot elsewhere. "Your official documentation from embassies or departments in Beijing will mean little here in Ordos."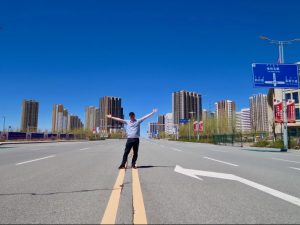 Kangbashi's new district in Ordos ghost city, Inner Mongolia, is the perfect place for filmmaking, with its vast, empty residential blocks, abandoned or completed mansion complex projects, half-finished hospitals and sports facilities, and its location where the Gobi Desert hits the Mongolian grasslands. The area even has a Mongol-era palace and city walls movie set, complete with outlying local villages. Normally used for, Chinese period drama shoots, this set can be available to Pioneer Media shoots as well.
Pioneer Media has already worked on narrative and short film projects in Ordos ghost city, including director John Maringouin acclaimed 2017 feature Ghostbox Cowboy, which went on to premiere at the 2017 Tribeca Film Festival.
While some choose to go down official routes to film in China, this can often come with restrictions from the powers that be. Ordos provides a perfect example of guerrilla filmmaking and finding ways in where it looks like a dead end. Here are some examples from our recent shoots.
Gaining Entry to Spring Castle completed mansion block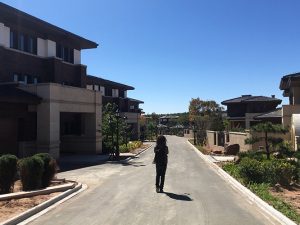 Mansions here go for $1.25 million USD, and they've mostly been bought by coal mining bosses who have yet to move in, there was no way we could just turn up and ask to film inside. So, our film maker became a European coal mining entrepreneur and I became his translator and assistant, we were looking to buy a mansion.
We were shown around the model mansion and complex itself, taking photos as we went and enquiring about the total square metres and price of the building, the parking facilities and the scope of the garden, etc etc. "My wife is very picky and I must get film of the whole surroundings," I translated.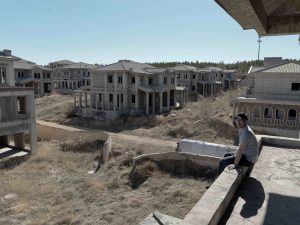 While I sat in the office with the staff discussing the formalities of the deal and collecting all the relevant paperwork, we were able to get footage of the whole empty complex and make some local friends too.
As we left, the salesperson shouted after us "I hope you become the first foreigners to live here at the Spring Castle!"
Acting in Film Making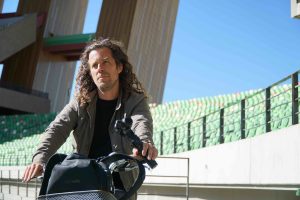 The above example is one of many we could use here. At the Formula 1 standard race track we can become racing car enthusiasts with a dream to walk and take some footage on the track. At the hospital, if we do see anyone around, we can become doctors on a holiday who want to see close up health care facilities in Ordos, or at schools, we can become educationalists impressed by the architecture of the buildings. It doesn't always gain automatic entry, but it's one tactic we can use.
And sometimes we become 'actual' film makers. At the impressively empty Ordos stadium, we stand to one side of the shot we're doing and when a cleaner or an occasional tourist walks towards us we state authoritatively "there's recording for a film up ahead, please walk around another way." This is one thing we've never been questioned on.
Finding everyday Actors
We have filmed footage here that requires not one person in the shot, like in the stadium, but we have also had times where we require local people to act in the films themselves. This, of course, is a technique that can save money, but also provide a great amount of realism in the characters that end up in the film itself.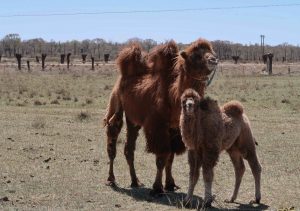 In Ghostbox Cowboy, which later premiered at the 2017 Tribeca Film Festival, we required a camel and a camel herder. After professing he has no idea about films and never watches films, the man we found proceeded to perform beautifully the role of a man who would stand in the desert and swap a 'ghost box' for a camel with a lost and bewildered American in the Ordos desert.
Another time we mooched around the reception and were eventually invited into a wedding that was happening in our hotel, resulting in our actor even getting up on stage and singing a song, precisely as was required for the shoot!
When the enemy advances we retreat, when they retreat we advance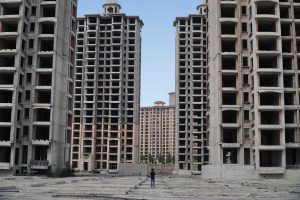 Sometimes guards will just not let us into the space we want to film. One such example is the "Star Lake Bay" residential complex built between Dongsheng and Kangbashi in Ordos. Column after column of the twenty-floor building stands completely empty, the ones to the west almost finished and the ones to the east still as concrete shells.
"Your car must stop here, though you can go on foot," said the guard to us the first time. We continued to get questions from guards as we moved from area to area surveying locations for a shoot. Because the shoot was going to take 4-6 hours we decided it was best to approach a different way, getting in undetected.
So it was that just gone noon when the guards were most likely eating or settling down for a midday nap we traversed a field down into a gulley and walked through a large drain to gain access undetected. We were still ready to be approached by guards but nobody came, possibly because one man walking through a half-built residential tower complex that is always completely empty is just not easily visible for anyone who comes within range.
Pioneer Media can offer filmmaking opportunities in Ordos and other cities in China through official, but more controlled routes, or organize less restricted, guerrilla-style film shoots. Contact us at media@mediapioneers.net for more information.